Reima Kids Turkki Fleece Jacket (Thyme Green)
Regular price

$59.00 USD

Sale price

$59.00 USD

Unit price

per
Size Guide
Warm fleece sweater with pile on top for extra warmth. Made with recycled materials.
The Reima zip-through jacket for kids is made from a soft material that includes recycled polyester from PET bottles
With a soft, fluffy pile on top and comfortable jersey on the reverse, this jacket is super cosy to wear. It's perfect as a fleece jacket and a mid-layer or for chilly days outdoors.
Warm pile on top, comfortable jersey against the skin
Contains certified recycled fibers
Elastic binding on sleeve ends and hem
Full-length zip with chin guard for comfort
Two zip pockets
Share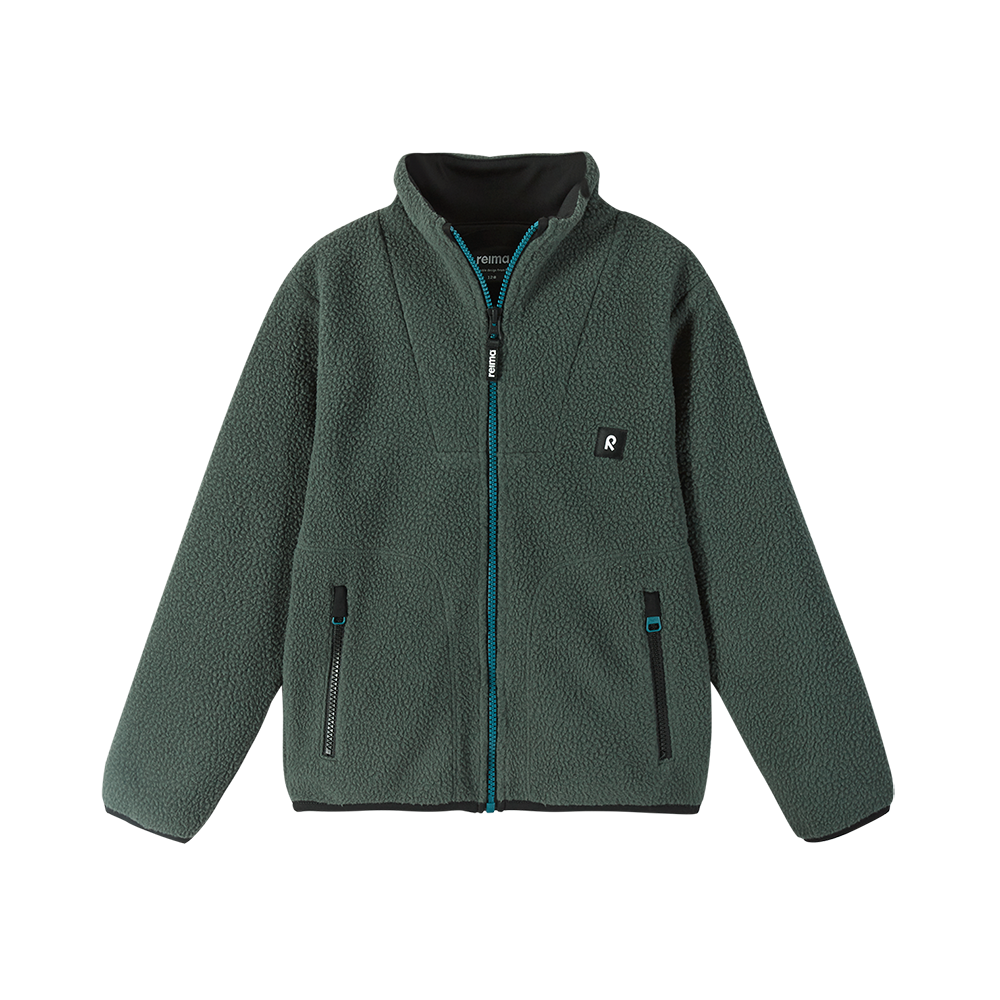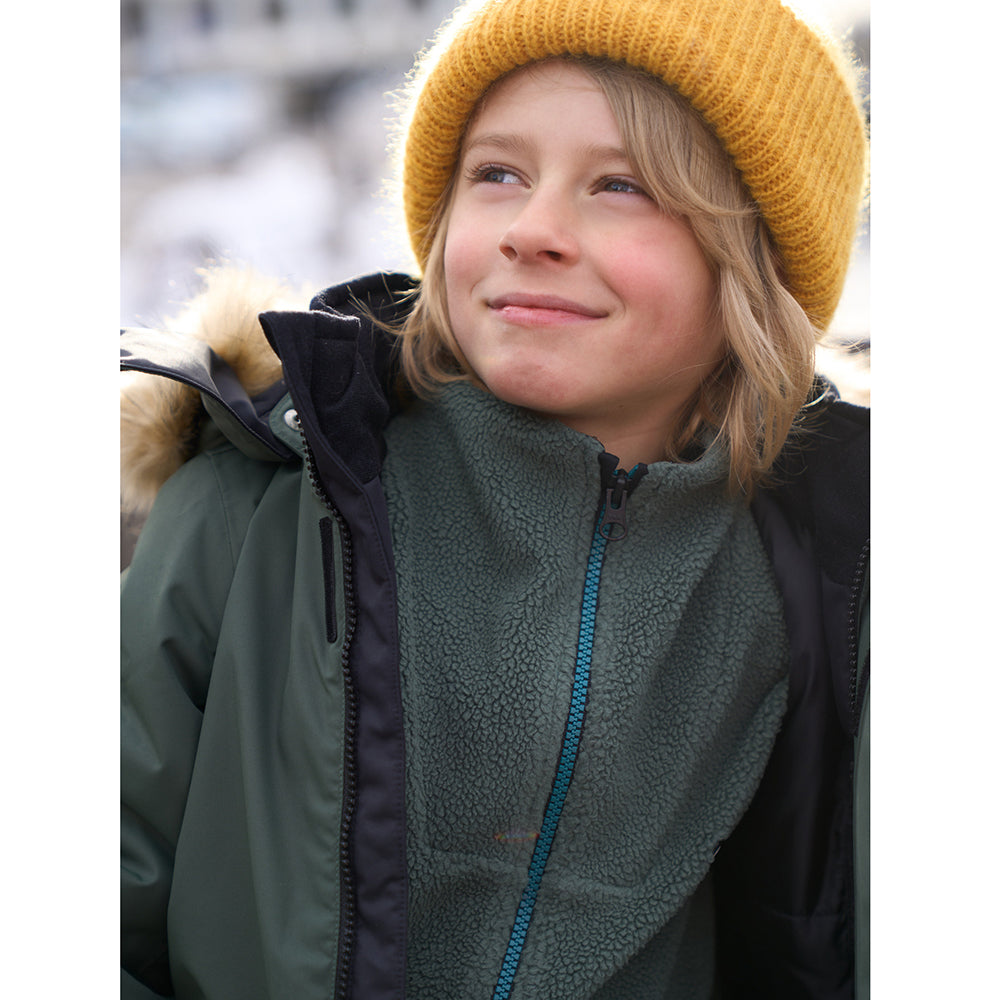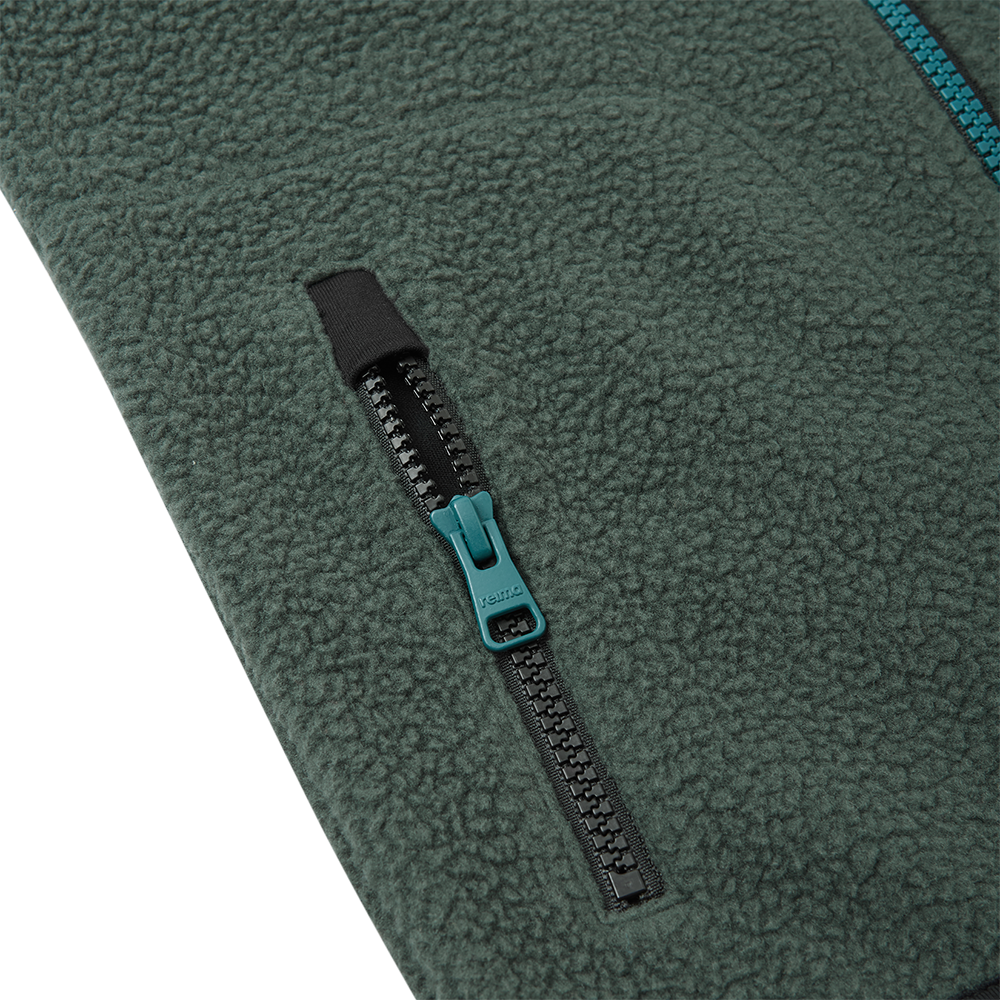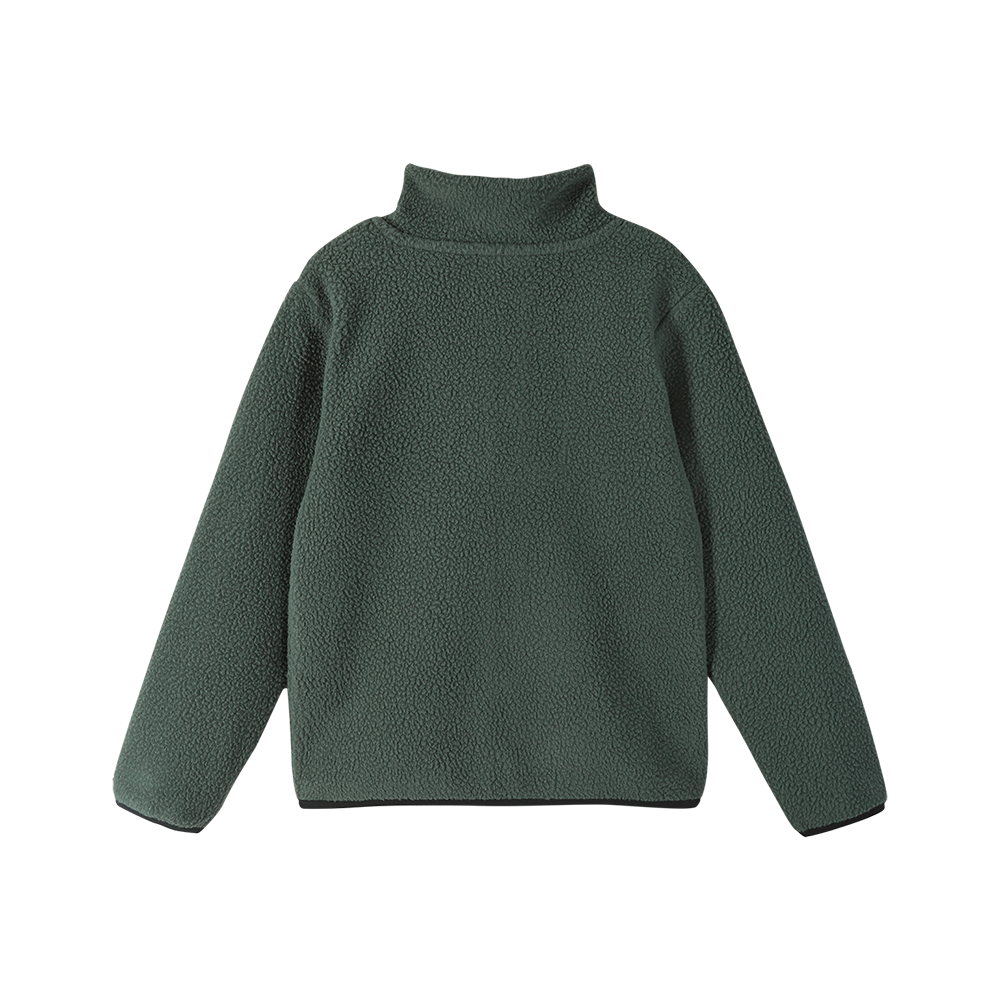 Reima Kids Size Chart
Age 0 - 5 Years
| Age | 3 mos | 6 mos | 9 mos | 1 yr | 1,5 yr | 2 yr | 3 yr | 4 yr | 5 yr |
| --- | --- | --- | --- | --- | --- | --- | --- | --- | --- |
| European Size | 62 | 68 | 74 | 80 | 86 | 92 | 98 | 104 | 110 |
| Height (cm) | 62 | 68 | 74 | 80 | 86 | 92 | 98 | 104 | 110 |
| Chest (cm) | 46 | 47 | 48,5 | 50 | 52 | 54 | 56 | 58 | 60 |
| Waist (cm) | 48 | 49 | 50 | 51 | 52 | 53 | 54 | 55 | 56 |
| Hip (cm) | 53 | 54 | 55 | 56 | 57 | 58 | 60 | 62 | 64 |
| Shoulder (cm) | 28,4 | 30,8 | 33,2 | 35,6 | 38,1 | 40,6 | 43,1 | 45,6 | 48,3 |
| Inside leg (cm) | 21 | 24 | 27 | 30 | 33,5 | 37 | 40,5 | 44 | 47,5 |
| Outside leg(cm) | 38,1 | 41,4 | 44,7 | 48 | 52 | 56 | 60 | 63 | 67 |
Age 6 - 14 Years
Age
6 yr
7 yr
8 yr
9 yr
10 yr
11 yr
12 yr
13 yr
14 yr
European Size
116
122
128
134
140
146
152
158
164
Height (cm)
116
122
128
134
140
146
152
158
164
Chest (cm)
62
64
66
69
72
75
78
81
84
Waist (cm)
57
58
60
62
64
66
68
70
72
Hip (cm)
66
68
70
72
75
78
81
84
87
Shoulder (cm)
53,7
56,4
59,6
62,8
65,7
68,6
71,6
74,6
Inside leg (cm)
57,5
58
61,5
65
68,5
71,5
74,5
77,5
Outside leg(cm)
71
75
79
83
87,2
91,4
95,1
98,8
102,5
 Hat Size Chart
| Age | 6-12 m | 1-1,5 y | 2-4 y | 2-5 y | 4-7 y | 7-12 y | 12-14 y |
| --- | --- | --- | --- | --- | --- | --- | --- |
| European Size | 46 | 48 | 50 | 52 | 54 | 56 | 58 |
| Head Circumference | 46 cm | 48 cm | 50 cm | 52 cm | 54 cm | 56 cm | 58 cm |
Glove Size Chart
| Age | 0-12 m | 6-16 m | 1-2 y | 2-4 yr | 4-6 yr | 6-8 yr | 8-10yr | 10-12 yr | 12-14yr |
| --- | --- | --- | --- | --- | --- | --- | --- | --- | --- |
| European Size | 0 | 1 | 2 | 3 | 4 | 5 | 6 | 7 | 8 |
| Palm height | 8 | 9 | 10 | 11.5 | 13 | 14 | 15 | 16 | 17 |
| Palm girth | 10 | 11.5 | 12.5 | 13.5 | 15 | 16 | 17 | 17.5 | 18 |
Sizing Information

Age 0 - 5 Years

| Age | 3 mos | 6 mos | 9 mos | 1 yr | 1,5 yr | 2 yr | 3 yr | 4 yr | 5 yr |
| --- | --- | --- | --- | --- | --- | --- | --- | --- | --- |
| European Size | 62 | 68 | 74 | 80 | 86 | 92 | 98 | 104 | 110 |
| Height (cm) | 62 | 68 | 74 | 80 | 86 | 92 | 98 | 104 | 110 |
| Chest (cm) | 46 | 47 | 48,5 | 50 | 52 | 54 | 56 | 58 | 60 |
| Waist (cm) | 48 | 49 | 50 | 51 | 52 | 53 | 54 | 55 | 56 |
| Hip (cm) | 53 | 54 | 55 | 56 | 57 | 58 | 60 | 62 | 64 |
| Shoulder (cm) | 28,4 | 30,8 | 33,2 | 35,6 | 38,1 | 40,6 | 43,1 | 45,6 | 48,3 |
| Inside leg (cm) | 21 | 24 | 27 | 30 | 33,5 | 37 | 40,5 | 44 | 47,5 |
| Outside leg(cm) | 38,1 | 41,4 | 44,7 | 48 | 52 | 56 | 60 | 63 | 67 |

 

Age 6 - 14 Years

Age
6 yr
7 yr
8 yr
9 yr
10 yr
11 yr
12 yr
13 yr
14 yr
European Size
116
122
128
134
140
146
152
158
164
Height (cm)
116
122
128
134
140
146
152
158
164
Chest (cm)
62
64
66
69
72
75
78
81
84
Waist (cm)
57
58
60
62
64
66
68
70
72
Hip (cm)
66
68
70
72
75
78
81
84
87
Shoulder (cm)
53,7
56,4
59,6
62,8
65,7
68,6
71,6
74,6
Inside leg (cm)
57,5
58
61,5
65
68,5
71,5
74,5
77,5
Outside leg(cm)
71
75
79
83
87,2
91,4
95,1
98,8
102,5

 

 Hat Size Chart

| Age | 6-12 m | 1-1,5 y | 2-4 y | 2-5 y | 4-7 y | 7-12 y | 12-14 y |
| --- | --- | --- | --- | --- | --- | --- | --- |
| European Size | 46 | 48 | 50 | 52 | 54 | 56 | 58 |
| Head Circumference | 46 cm | 48 cm | 50 cm | 52 cm | 54 cm | 56 cm | 58 cm |

 

Glove Size Chart

| Age | 0-12 m | 6-16 m | 1-2 y | 2-4 yr | 4-6 yr | 6-8 yr | 8-10yr | 10-12 yr | 12-14yr |
| --- | --- | --- | --- | --- | --- | --- | --- | --- | --- |
| European Size | 0 | 1 | 2 | 3 | 4 | 5 | 6 | 7 | 8 |
| Palm height | 8 | 9 | 10 | 11.5 | 13 | 14 | 15 | 16 | 17 |
| Palm girth | 10 | 11.5 | 12.5 | 13.5 | 15 | 16 | 17 | 17.5 | 18 |