Reima Kids Rain Hat (Greyish Green)
Regular price

$18.00 USD

Sale price

$18.00 USD

Unit price

per
Size Guide
This fully waterproof hat is ideal in both light showers and heavy rain storms. The extended neck cape stops rain running down your child's neck and the ear flaps keep them. A great idea for children who hate wearing hoods!

Fully waterproof
Welded seams = no leaks

Chin strap

Ear flaps
We say:
The number on the sizing refers to head circumference. If in doubt please measure your child's head before ordering.
Share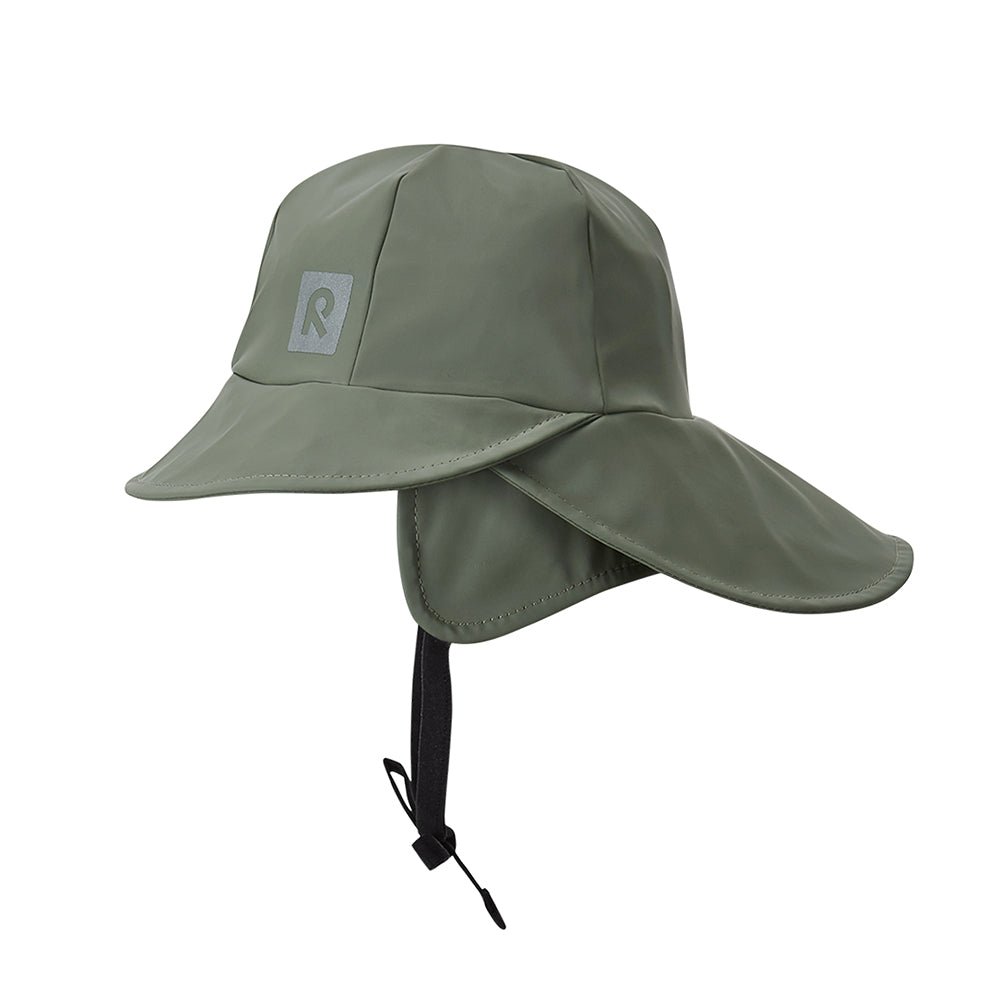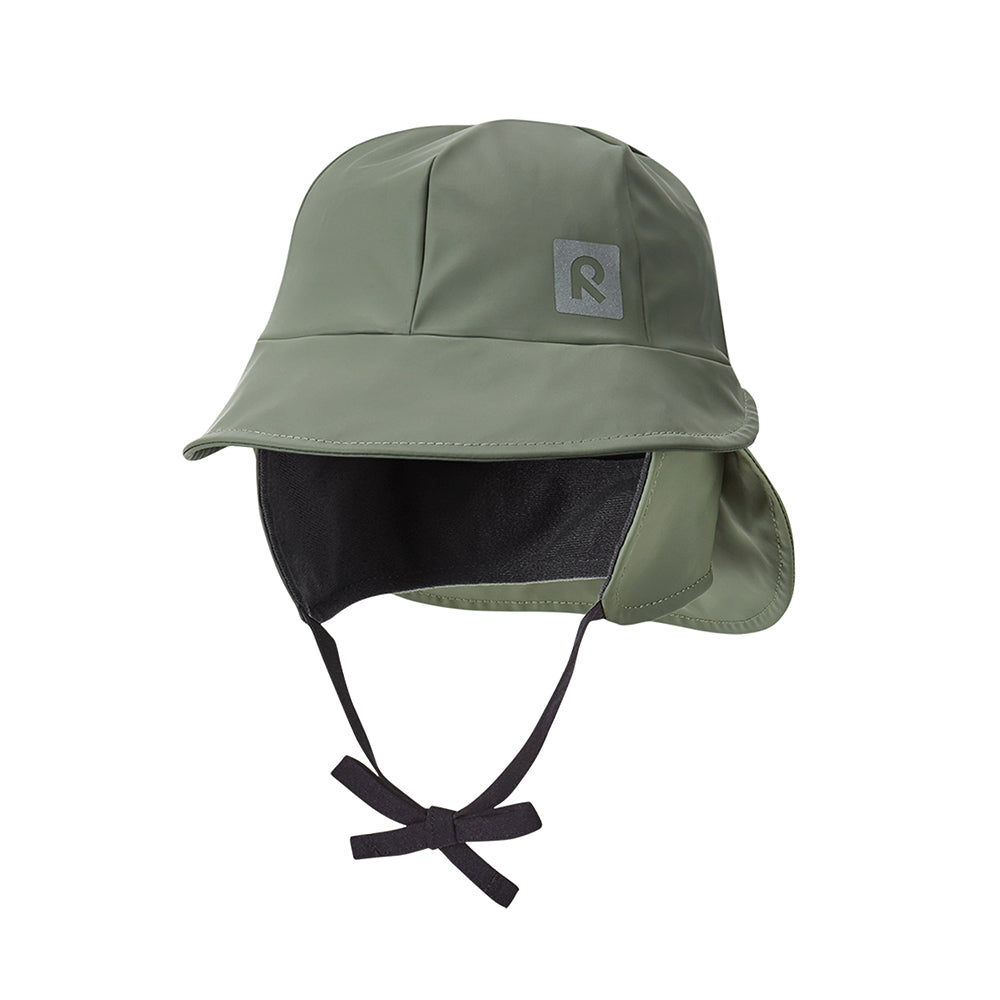 Reima Kids Size Chart
Age 0 - 5 Years
| Age | 3 mos | 6 mos | 9 mos | 1 yr | 1,5 yr | 2 yr | 3 yr | 4 yr | 5 yr |
| --- | --- | --- | --- | --- | --- | --- | --- | --- | --- |
| European Size | 62 | 68 | 74 | 80 | 86 | 92 | 98 | 104 | 110 |
| Height (cm) | 62 | 68 | 74 | 80 | 86 | 92 | 98 | 104 | 110 |
| Chest (cm) | 46 | 47 | 48,5 | 50 | 52 | 54 | 56 | 58 | 60 |
| Waist (cm) | 48 | 49 | 50 | 51 | 52 | 53 | 54 | 55 | 56 |
| Hip (cm) | 53 | 54 | 55 | 56 | 57 | 58 | 60 | 62 | 64 |
| Shoulder (cm) | 28,4 | 30,8 | 33,2 | 35,6 | 38,1 | 40,6 | 43,1 | 45,6 | 48,3 |
| Inside leg (cm) | 21 | 24 | 27 | 30 | 33,5 | 37 | 40,5 | 44 | 47,5 |
| Outside leg(cm) | 38,1 | 41,4 | 44,7 | 48 | 52 | 56 | 60 | 63 | 67 |
Age 6 - 14 Years
Age
6 yr
7 yr
8 yr
9 yr
10 yr
11 yr
12 yr
13 yr
14 yr
European Size
116
122
128
134
140
146
152
158
164
Height (cm)
116
122
128
134
140
146
152
158
164
Chest (cm)
62
64
66
69
72
75
78
81
84
Waist (cm)
57
58
60
62
64
66
68
70
72
Hip (cm)
66
68
70
72
75
78
81
84
87
Shoulder (cm)
53,7
56,4
59,6
62,8
65,7
68,6
71,6
74,6
Inside leg (cm)
57,5
58
61,5
65
68,5
71,5
74,5
77,5
Outside leg(cm)
71
75
79
83
87,2
91,4
95,1
98,8
102,5
 Hat Size Chart
| Age | 6-12 m | 1-1,5 y | 2-4 y | 2-5 y | 4-7 y | 7-12 y | 12-14 y |
| --- | --- | --- | --- | --- | --- | --- | --- |
| European Size | 46 | 48 | 50 | 52 | 54 | 56 | 58 |
| Head Circumference | 46 cm | 48 cm | 50 cm | 52 cm | 54 cm | 56 cm | 58 cm |
Glove Size Chart
| Age | 0-12 m | 6-16 m | 1-2 y | 2-4 yr | 4-6 yr | 6-8 yr | 8-10yr | 10-12 yr | 12-14yr |
| --- | --- | --- | --- | --- | --- | --- | --- | --- | --- |
| European Size | 0 | 1 | 2 | 3 | 4 | 5 | 6 | 7 | 8 |
| Palm height | 8 | 9 | 10 | 11.5 | 13 | 14 | 15 | 16 | 17 |
| Palm girth | 10 | 11.5 | 12.5 | 13.5 | 15 | 16 | 17 | 17.5 | 18 |
Sizing Information

Age 0 - 5 Years

| Age | 3 mos | 6 mos | 9 mos | 1 yr | 1,5 yr | 2 yr | 3 yr | 4 yr | 5 yr |
| --- | --- | --- | --- | --- | --- | --- | --- | --- | --- |
| European Size | 62 | 68 | 74 | 80 | 86 | 92 | 98 | 104 | 110 |
| Height (cm) | 62 | 68 | 74 | 80 | 86 | 92 | 98 | 104 | 110 |
| Chest (cm) | 46 | 47 | 48,5 | 50 | 52 | 54 | 56 | 58 | 60 |
| Waist (cm) | 48 | 49 | 50 | 51 | 52 | 53 | 54 | 55 | 56 |
| Hip (cm) | 53 | 54 | 55 | 56 | 57 | 58 | 60 | 62 | 64 |
| Shoulder (cm) | 28,4 | 30,8 | 33,2 | 35,6 | 38,1 | 40,6 | 43,1 | 45,6 | 48,3 |
| Inside leg (cm) | 21 | 24 | 27 | 30 | 33,5 | 37 | 40,5 | 44 | 47,5 |
| Outside leg(cm) | 38,1 | 41,4 | 44,7 | 48 | 52 | 56 | 60 | 63 | 67 |

 

Age 6 - 14 Years

Age
6 yr
7 yr
8 yr
9 yr
10 yr
11 yr
12 yr
13 yr
14 yr
European Size
116
122
128
134
140
146
152
158
164
Height (cm)
116
122
128
134
140
146
152
158
164
Chest (cm)
62
64
66
69
72
75
78
81
84
Waist (cm)
57
58
60
62
64
66
68
70
72
Hip (cm)
66
68
70
72
75
78
81
84
87
Shoulder (cm)
53,7
56,4
59,6
62,8
65,7
68,6
71,6
74,6
Inside leg (cm)
57,5
58
61,5
65
68,5
71,5
74,5
77,5
Outside leg(cm)
71
75
79
83
87,2
91,4
95,1
98,8
102,5

 

 Hat Size Chart

| Age | 6-12 m | 1-1,5 y | 2-4 y | 2-5 y | 4-7 y | 7-12 y | 12-14 y |
| --- | --- | --- | --- | --- | --- | --- | --- |
| European Size | 46 | 48 | 50 | 52 | 54 | 56 | 58 |
| Head Circumference | 46 cm | 48 cm | 50 cm | 52 cm | 54 cm | 56 cm | 58 cm |

 

Glove Size Chart

| Age | 0-12 m | 6-16 m | 1-2 y | 2-4 yr | 4-6 yr | 6-8 yr | 8-10yr | 10-12 yr | 12-14yr |
| --- | --- | --- | --- | --- | --- | --- | --- | --- | --- |
| European Size | 0 | 1 | 2 | 3 | 4 | 5 | 6 | 7 | 8 |
| Palm height | 8 | 9 | 10 | 11.5 | 13 | 14 | 15 | 16 | 17 |
| Palm girth | 10 | 11.5 | 12.5 | 13.5 | 15 | 16 | 17 | 17.5 | 18 |