Helly Hansen Kids Rider Snow Suit (Poppy)
Regular price

$193.00 USD

Regular price

$193.00 USD

Sale price

$193.00 USD

Unit price

per
Size Guide
Helly Hansen's classic waterproof and fully insulated snow suit for children. It's perfect for skiing, winter playgrounds, windy beaches and more.
A really great practical touch with this snow suit are the internal braces. Inside are two simple elastic shoulder straps which your child can slip over their shoulders. This means that when they walk into a mountain restaurant for lunch then can unzip and walk round without dragging half their ski suit along the floor behind them! 
Fully waterproof and breathable HELLY TECH® Performance fabric provides protection from the elements and PrimaLoft® insulation keeps little ones warm too.
Highly waterproof (15,000 mmHg)
Breathable

Insulated with PrimaLoft® insulation (100% recycled)

Reinforcement fabric on bottom hem, seat and knees
Hi -Vis fabric in hood brim and shoulders
Two zipped hand pockets
Fully seam sealed
Removable foot straps
Ankle adjustment (can easily go over ski boots)
Detachable hood
Adjustable waist
Elastic suspenders inside (remove the top half without it hanging on the floor)
YKK zippers
PFC free water-repellent finish
Share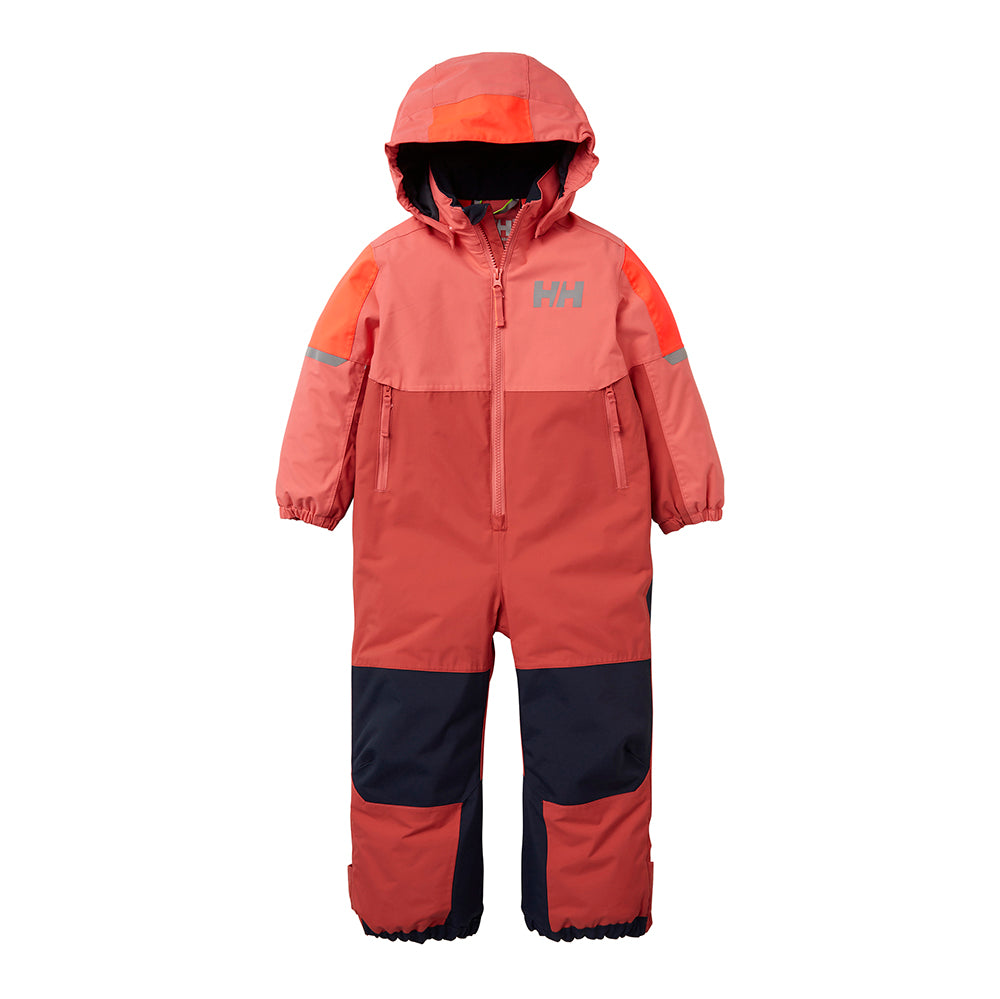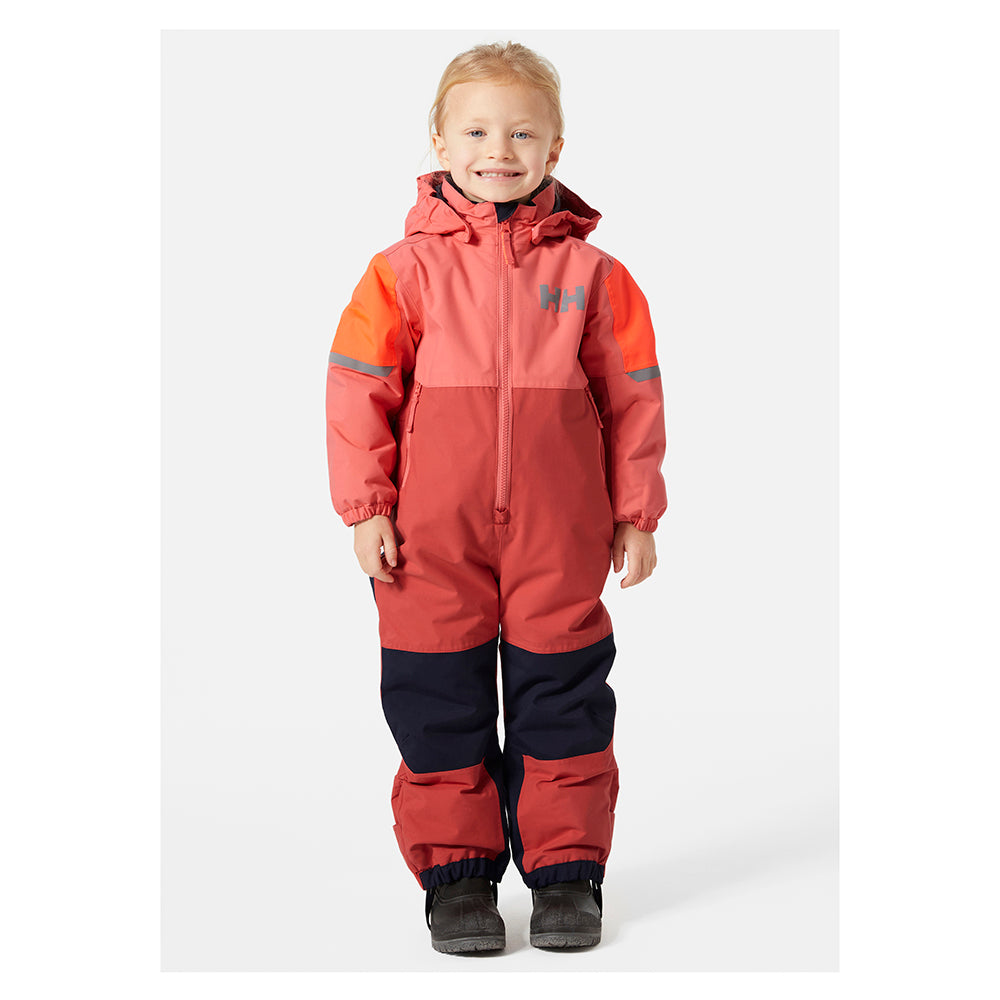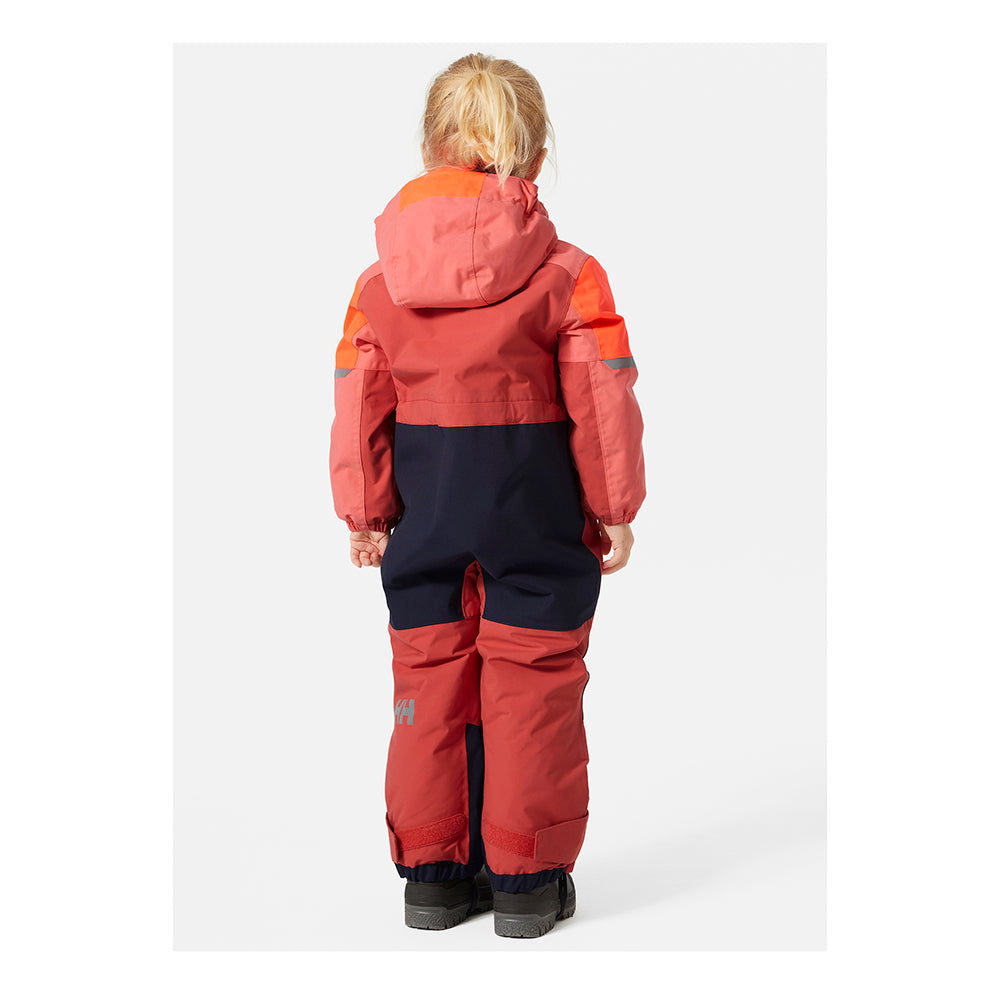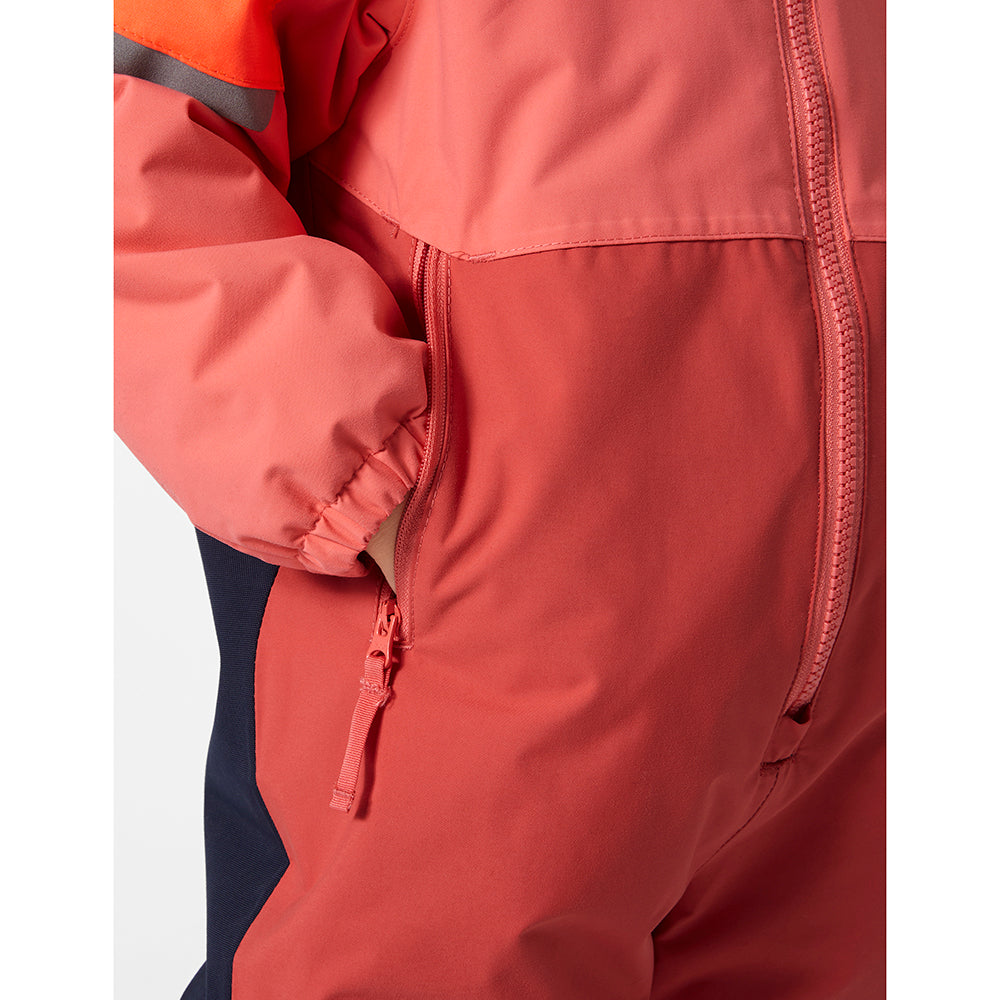 Helly Hansen Kids Size Chart
Helly Hansen Kids Size Chart
All sizes in cm
| SIZE | BODY | CHEST | WAIST | HIP | INSEAM | CENTER BACK SLEEVE |
| --- | --- | --- | --- | --- | --- | --- |
| 86/1 yr | 86 | 53 | 51 | 57 | 35 | 40,5 |
| 92/2 yr | 92 | 54 | 52 | 58 | 38,5 | 43 |
| 98/3 yr | 98 | 55 | 53 | 59 | 42 | 45,5 |
| 104/4 yr | 104 | 56 | 54 | 60 | 45,5 | 48 |
| 110/5 yr | 110 | 57 | 55 | 61 | 49 | 51 |
| 116/6 yr | 116 | 59 | 56 | 63 | 52,5 | 54 |
| 122/7 yr | 122 | 61 | 57 | 65 | 56 | 57 |
| 128/8 yr | 128 | 65 | 59 | 68,25 | 58 | 60,5 |
| 134/9 yr | 131-137 | 67-71 | 64-67 | 71-75 | 60-64 | 63,5-67 |
| 140/10 yr | 140 | 71 | 63 | 74,25 | 65 | 66 |
| 152/12 yr | 152 | 77 | 69 | 80,25 | 71,5 | 71,5 |
| 164/14 yr | 164 | 83 | 75 | 86,25 | 77,5 | 78 |
Sizing Information

Helly Hansen Kids Size Chart

All sizes in cm

| SIZE | BODY | CHEST | WAIST | HIP | INSEAM | CENTER BACK SLEEVE |
| --- | --- | --- | --- | --- | --- | --- |
| 86/1 yr | 86 | 53 | 51 | 57 | 35 | 40,5 |
| 92/2 yr | 92 | 54 | 52 | 58 | 38,5 | 43 |
| 98/3 yr | 98 | 55 | 53 | 59 | 42 | 45,5 |
| 104/4 yr | 104 | 56 | 54 | 60 | 45,5 | 48 |
| 110/5 yr | 110 | 57 | 55 | 61 | 49 | 51 |
| 116/6 yr | 116 | 59 | 56 | 63 | 52,5 | 54 |
| 122/7 yr | 122 | 61 | 57 | 65 | 56 | 57 |
| 128/8 yr | 128 | 65 | 59 | 68,25 | 58 | 60,5 |
| 134/9 yr | 131-137 | 67-71 | 64-67 | 71-75 | 60-64 | 63,5-67 |
| 140/10 yr | 140 | 71 | 63 | 74,25 | 65 | 66 |
| 152/12 yr | 152 | 77 | 69 | 80,25 | 71,5 | 71,5 |
| 164/14 yr | 164 | 83 | 75 | 86,25 | 77,5 | 78 |