Didriksons Colorado Kids Waterproof Suit Overalls (Corn Blue)
Regular price

$65.00 USD

Sale price

$46.00 USD

Unit price

per
Size Guide
Head to toe protection from rain and snow for little ones.
Didriksons's new rain overall if made from their fantastic waterproof Galon® fabric and  is also fleece lined, making this waterproof suit ideal for winter puddles and snow.
Galon® is a fully waterproof and very durable fabric which is welded at the seams making this suit "sit in puddles" waterproof. The fleece lining provides plenty of warmth with out being too bulky. This all-in-one can double up as a snowsuit as well as being brilliant for jumping in puddles.
To purchase the correct size of overall we recommend you use the EU size which is equivalent to the height of the child i.e. age 2 - 3 yrs fits a child of 90cm in height with room for growth.
Waterproof (at least 10,000 mm)
Welded seams
Flexible material
PVC free
Fleece lining
Safe, detachable hood
Elastic cuffs and leg ends
Large hanging tag and name tag
Detachable silicone foot loops
Zipper at front
Reflective details
Share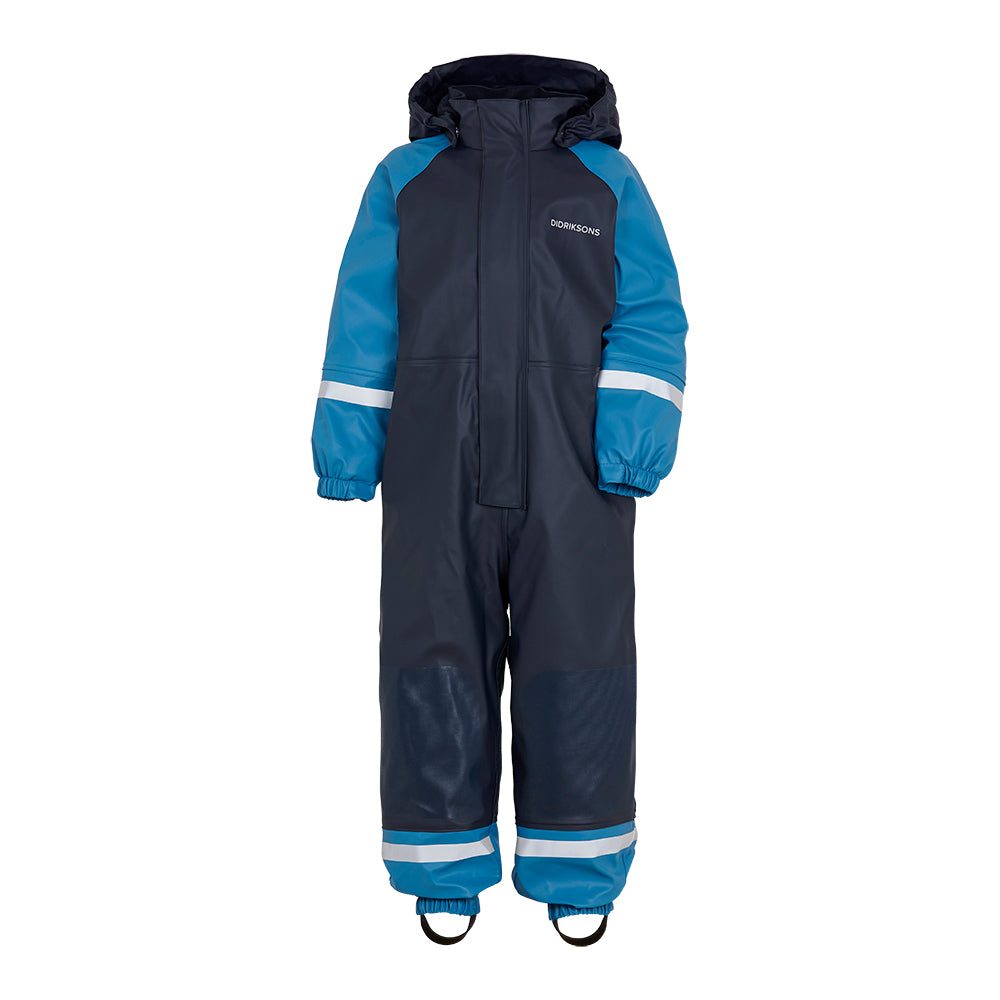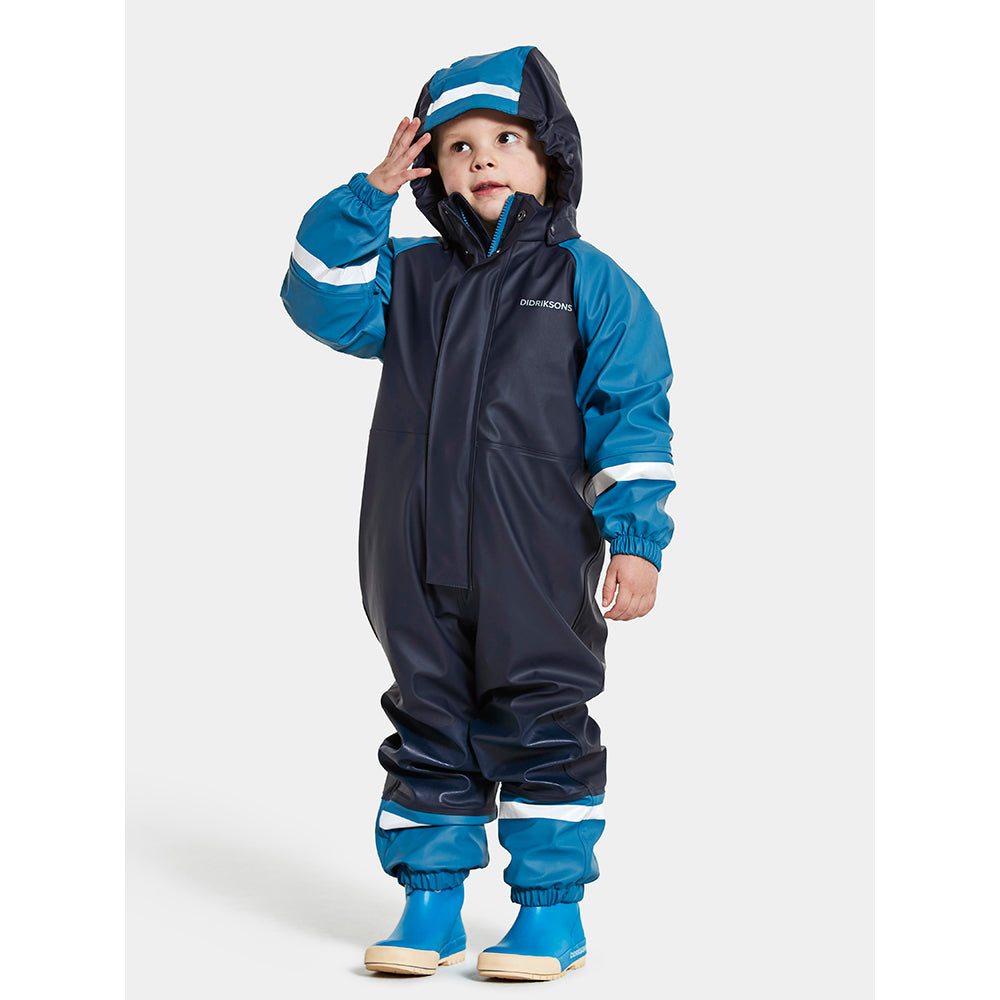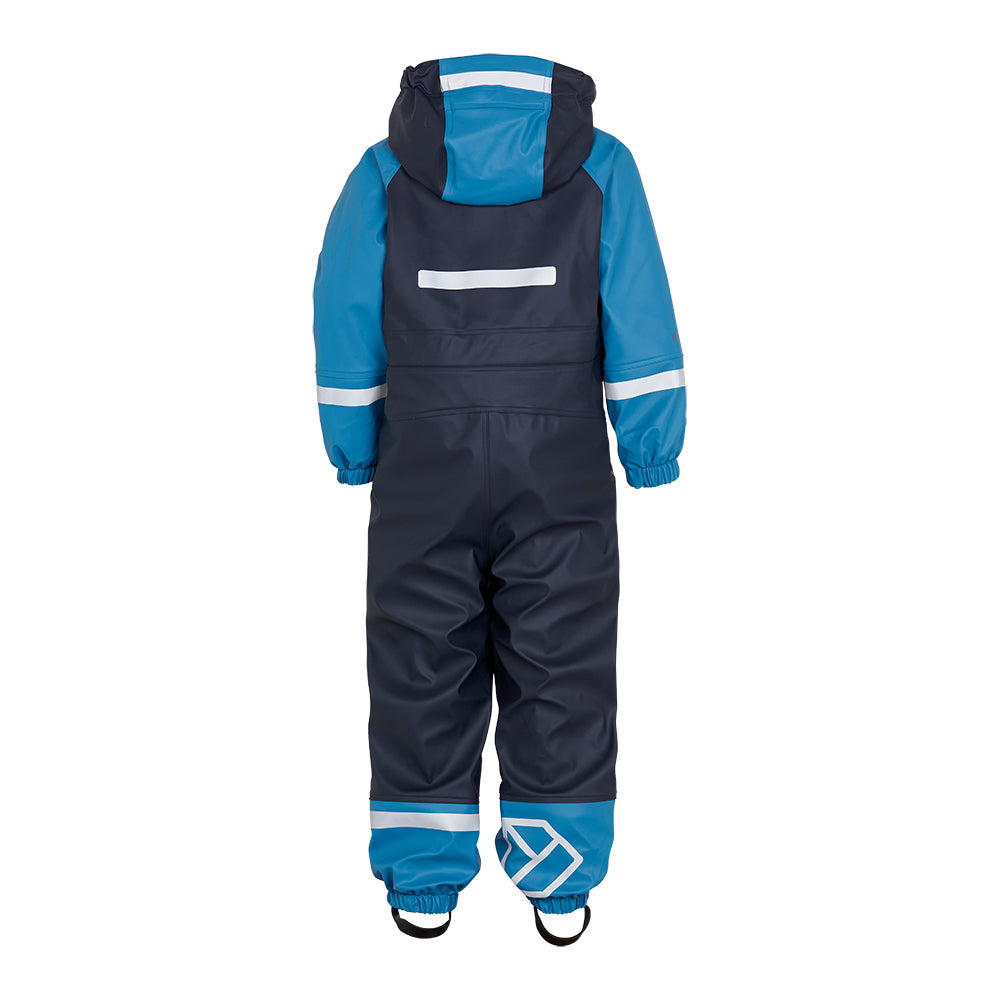 Reima Kids Size Chart
Age 0 - 5 Years
| Age | 3 mos | 6 mos | 9 mos | 1 yr | 1,5 yr | 2 yr | 3 yr | 4 yr | 5 yr |
| --- | --- | --- | --- | --- | --- | --- | --- | --- | --- |
| European Size | 62 | 68 | 74 | 80 | 86 | 92 | 98 | 104 | 110 |
| Height (cm) | 62 | 68 | 74 | 80 | 86 | 92 | 98 | 104 | 110 |
| Chest (cm) | 46 | 47 | 48,5 | 50 | 52 | 54 | 56 | 58 | 60 |
| Waist (cm) | 48 | 49 | 50 | 51 | 52 | 53 | 54 | 55 | 56 |
| Hip (cm) | 53 | 54 | 55 | 56 | 57 | 58 | 60 | 62 | 64 |
| Shoulder (cm) | 28,4 | 30,8 | 33,2 | 35,6 | 38,1 | 40,6 | 43,1 | 45,6 | 48,3 |
| Inside leg (cm) | 21 | 24 | 27 | 30 | 33,5 | 37 | 40,5 | 44 | 47,5 |
| Outside leg(cm) | 38,1 | 41,4 | 44,7 | 48 | 52 | 56 | 60 | 63 | 67 |
Age 6 - 14 Years
Age
6 yr
7 yr
8 yr
9 yr
10 yr
11 yr
12 yr
13 yr
14 yr
European Size
116
122
128
134
140
146
152
158
164
Height (cm)
116
122
128
134
140
146
152
158
164
Chest (cm)
62
64
66
69
72
75
78
81
84
Waist (cm)
57
58
60
62
64
66
68
70
72
Hip (cm)
66
68
70
72
75
78
81
84
87
Shoulder (cm)
53,7
56,4
59,6
62,8
65,7
68,6
71,6
74,6
Inside leg (cm)
57,5
58
61,5
65
68,5
71,5
74,5
77,5
Outside leg(cm)
71
75
79
83
87,2
91,4
95,1
98,8
102,5
 Hat Size Chart
| Age | 6-12 m | 1-1,5 y | 2-4 y | 2-5 y | 4-7 y | 7-12 y | 12-14 y |
| --- | --- | --- | --- | --- | --- | --- | --- |
| European Size | 46 | 48 | 50 | 52 | 54 | 56 | 58 |
| Head Circumference | 46 cm | 48 cm | 50 cm | 52 cm | 54 cm | 56 cm | 58 cm |
Glove Size Chart
| Age | 0-12 m | 6-16 m | 1-2 y | 2-4 yr | 4-6 yr | 6-8 yr | 8-10yr | 10-12 yr | 12-14yr |
| --- | --- | --- | --- | --- | --- | --- | --- | --- | --- |
| European Size | 0 | 1 | 2 | 3 | 4 | 5 | 6 | 7 | 8 |
| Palm height | 8 | 9 | 10 | 11.5 | 13 | 14 | 15 | 16 | 17 |
| Palm girth | 10 | 11.5 | 12.5 | 13.5 | 15 | 16 | 17 | 17.5 | 18 |
Sizing Information

Age 0 - 5 Years

| Age | 3 mos | 6 mos | 9 mos | 1 yr | 1,5 yr | 2 yr | 3 yr | 4 yr | 5 yr |
| --- | --- | --- | --- | --- | --- | --- | --- | --- | --- |
| European Size | 62 | 68 | 74 | 80 | 86 | 92 | 98 | 104 | 110 |
| Height (cm) | 62 | 68 | 74 | 80 | 86 | 92 | 98 | 104 | 110 |
| Chest (cm) | 46 | 47 | 48,5 | 50 | 52 | 54 | 56 | 58 | 60 |
| Waist (cm) | 48 | 49 | 50 | 51 | 52 | 53 | 54 | 55 | 56 |
| Hip (cm) | 53 | 54 | 55 | 56 | 57 | 58 | 60 | 62 | 64 |
| Shoulder (cm) | 28,4 | 30,8 | 33,2 | 35,6 | 38,1 | 40,6 | 43,1 | 45,6 | 48,3 |
| Inside leg (cm) | 21 | 24 | 27 | 30 | 33,5 | 37 | 40,5 | 44 | 47,5 |
| Outside leg(cm) | 38,1 | 41,4 | 44,7 | 48 | 52 | 56 | 60 | 63 | 67 |

 

Age 6 - 14 Years

Age
6 yr
7 yr
8 yr
9 yr
10 yr
11 yr
12 yr
13 yr
14 yr
European Size
116
122
128
134
140
146
152
158
164
Height (cm)
116
122
128
134
140
146
152
158
164
Chest (cm)
62
64
66
69
72
75
78
81
84
Waist (cm)
57
58
60
62
64
66
68
70
72
Hip (cm)
66
68
70
72
75
78
81
84
87
Shoulder (cm)
53,7
56,4
59,6
62,8
65,7
68,6
71,6
74,6
Inside leg (cm)
57,5
58
61,5
65
68,5
71,5
74,5
77,5
Outside leg(cm)
71
75
79
83
87,2
91,4
95,1
98,8
102,5

 

 Hat Size Chart

| Age | 6-12 m | 1-1,5 y | 2-4 y | 2-5 y | 4-7 y | 7-12 y | 12-14 y |
| --- | --- | --- | --- | --- | --- | --- | --- |
| European Size | 46 | 48 | 50 | 52 | 54 | 56 | 58 |
| Head Circumference | 46 cm | 48 cm | 50 cm | 52 cm | 54 cm | 56 cm | 58 cm |

 

Glove Size Chart

| Age | 0-12 m | 6-16 m | 1-2 y | 2-4 yr | 4-6 yr | 6-8 yr | 8-10yr | 10-12 yr | 12-14yr |
| --- | --- | --- | --- | --- | --- | --- | --- | --- | --- |
| European Size | 0 | 1 | 2 | 3 | 4 | 5 | 6 | 7 | 8 |
| Palm height | 8 | 9 | 10 | 11.5 | 13 | 14 | 15 | 16 | 17 |
| Palm girth | 10 | 11.5 | 12.5 | 13.5 | 15 | 16 | 17 | 17.5 | 18 |